Magnesium Chloride Hexahydrate Crystals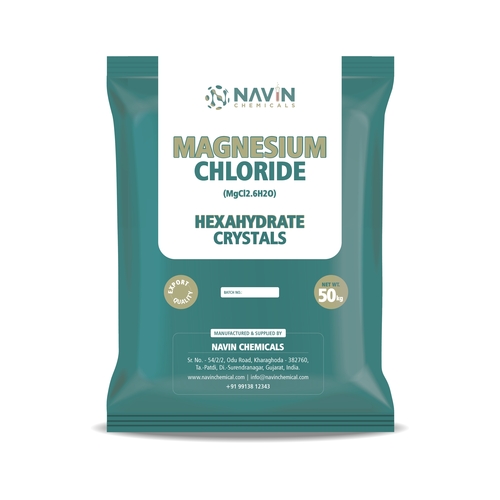 Magnesium Chloride Hexahydrate Crystals
Price And Quantity
Kilograms/Kilograms

25 INR
Product Specifications
Magnesium Chloride Hexahydrate

Industrial Grade
Product Description
We are manufacturers and suppliers of Magnesium Chloride Hexahydrate Crystals in Gujarat, India. The offered powder is checked on various quality parameters under the surveillance of skilled professionals.
Navin Chemicals product range includes a wide range of Magnesium Chloride Hexahydrate Crystals. With enriched industrial experience and knowledge, we are providing an excellent range of Magnesium Chloride Hexahydrate Crystals in India.
This powder is available in the market at industry leading prices to our customers. It is 100% natural in origin. We offer the same in industrial grade, lab grade and pharmaceutical grade.
Product Details:
Product Name: Magnesium Chloride Hexahydrate Crystals
Minimum Order Quantity: 1000 kg
Usage/Application: Pharmaceutical
Grade Standard: Industrial Grade, Lab Grade
Brand: Navin Chemicals
Purity: 99%
Chemical Formula: MgCl2
Melting Point: 714 Degree C
Boiling Point: 1,412 Degree C
Packaging Type: Bag
Molar mass: 95.211 g/mol
Soluble in: Water
Appearance of solution: Clear and colorless, No Sedimentation
Assay as MgCl2.6H2O: 99 to 101 %
Acidity or alkalinity: For 10% solution - Not more than 0.3 ml of 0.05MHCl or 0.05M NaOH
Arsenic: Max 2 ppm
Lead (Pb): Max 2 ppm
Iron: Max 10 ppm
Calcium: Max 25 ppm
Sulphates: Max 50 ppm
Aluminium: Max 1 ppm
Barium: In 10 ml solution add 1 ml of 2N H2SO4. No turbidity in 2 hrs.
Cadmium : 1 ppm max
Sodium and Potassium: In 5 ml of 20% solution add 0.2 ml sodium bitartarate. No turbidity in 5 min
Ph: In 5 % solution 4.5 to 7
Packing: 25 & 50 Kg. HDPE Woven bags / Fiber Drums
Additional Information:
Production Capacity: 5000 ton
Delivery Time: within 7 days from date of PO
Packaging Details: 25 & 50 kg bags
Usage/Application:
Magnesium Chloride is used for dust control,soil stabilization and wind erosion mitigation. When Magnesium Chloride is applied to roads and bare soil area it absorbs moisture from the air thus dust settles on the road .
The use of Magnesium Chloride on roads results in cleaner air, which leads to better health as dust fugitive dust can cause health problems in the young, elderly and people with respiratory conditions and provides greater safety through improved road conditions, including increased driver visibility and decreased risks caused by loose gravel, soft spots, road roughness and flying rocks. It reduces foreign sediment in nearby surface waters, and keeps vehicles and property cleaner.
Magnesium chloride is used for low-temperature de-icing of highways, sidewalks, and parking lots. When highways are treacherous due to icy conditions, Magnesium Chloride helps to prevent the ice bond, allowing snow plows to clear the roads more efficiently.
Magnesium Chloride has a wide use in abrasive industry as an anti-heating and bonding agent for making emery stones, grinding stones, etc.
Magnesium Chloride is used in making stones for flour mills for flour processing.
Magnesium Chloride is used as a wetting agent for dressing in the textile industry.
One of the most important uses of Magnesium Chloride is as a flame retardant in polymers.
Magnesium Chloride is used as a fireproofing agent for impregnation of wood, especially mine timbers and specialized particle boards.
Magnesium Chloride is used as an additive in fertilizers to increase magnesium levels in the surface soil.
Magnesium Chloride is used as an additive to prevent various disease and infections and restore magnesium levels in cattles.
Magnesium Chloride is used as an additive in specialized pesticides to retain magnesium levels in the surface soil/fertilizer.
Magnesium Chloride is used in aquaculture to duplicate sea water for prawn/fish/shrimp farming.
Magnesium Chloride is used in oil drilling as it has a very high boiling and melting point and becomes oily when dissolved in water.
Magnesium Chloride is widely used in making specialized flooring and shades for various specialized industries, super critical industries ,airport hangar floorings etc.
Magnesium Chloride is highly effective in curing Parkinsons disease, Acne, Muscle Cramps, Psoriasis, Eczema, Itchy Skin, Warts,etc.
Magnesium has many functions in the metabolism of oil palm fruit :
Magnesium is the central atom of the chlorophyll molecule, the green pigment in leaves, which captures the light energy required for photosynthesis
Magnesium is involved in the carboxylase reaction of the photosynthesis, namely as a coenzyme in the fixation of CO2
Magnesium is needed in all processes that require energy, e.g. starch, protein and vitamin synthesis
Magnesium speeds up the assimilate transport to leaves and fruit bunches and it is required in many enzymes concerned with fatty acid and oil biosynthesis.
Magnesium chloride is widely used in many countries for the treatment of industrial effluent through specialized processes and is also used for treatment of sewage.